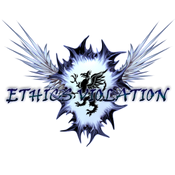 Ethics Violation guild's initial goal to reach and establish a consistent amount of players who will be with us from the very beginning has been reached. However, we are open to any class changes that our players desire and our current Recruitment status shall be updated and the positions for all the classes will be renewed, as soon as possible.
The guild's current objective is to establish a mature, friendly environment for all our members to settle and most importantly an enjoyable one for every class and rank, once the game is launched.
Note: Attention is paid to the guild's organization, maturity level and compensated fun throughout the entire setting of our rules..
LIST IS BEING CURRENTLY UPDATED ,FINAL RESULTS WILL BE POSTED SHORTLY BEFORE THE BETA
Ethnicity
Edit
The following number of Members comes from those European Countries:
United Kingdom:
Greece:
Netherlands:
Norway:
Sweden:
Italy:
Poland:
Belgium:
France:
Iceland:
Romania:
Czech Republic:
Portugal:
Hungary:

LIST IS BEING CURRENTLY UPDATED
Relation with the Community
Edit
Ethics Violation has been the host of many community driven events both on tera-online.com but also on tera-europe.com,the variety of events is big going from unofficial competitions till suggestion cycles.Below you can find a list with all events Ethics Violation has been involved as a host or having its members participate.

Moreover the Guild Leader,AlexiusApollonius was the first to have an interview with the CEO of Europe,Andreas Weidenhaupt acting as a representative of terafans.com read the interview here,AlexiusApollonius also had a backstage meeting with the team of En Masse.
Ethics Violation is a Guild which is involved in many community activities,below you can take a look on our Promotional Videos,Beta Videos and other activities !
Promo Videos
Edit
First Promo VideoEdit
The first Promo Video of Ethics Violation appeared first on September 6th and was the product of a teamwork which came from our fellow members Arch (composer),Lunedhiver (video editing) and Samael (poetry)
Second Promo VideoEdit
The Second Promo Video made it's first appearance on November 23rd,created by the former Team that created the first but there was also a new addition to the team which was RivAngE.So again Arch served as the composer,Lunedhiver and RivAngE performed video editing and Samael created the poetry.
If you're interested in joining Ethics Violation then contact AlexiusApollonius either on tera-europe.com or ethicsviolation.eu the latter being our own homepage