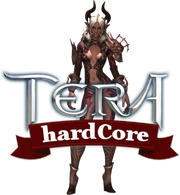 Welcome To Hardcore Tera Guild
We are a group of friends made in the heat of the battle. Comming from different games, nwe spend our last 2 years in AION (top 100 legion ) creating one of the most united and cherished brazillian Legion on Zikel (Azphel as of the beggining). Based on the flag of friendship, we run a commom path into a more fun experience on the online multiverse.
We are a mix of experienced and newbie players, always open to newcommers adn new friends. If you got interested in TERA and do speak portuguese (as of now we are a portuguese speaking only Guild), you can begin by joining us. Our legion is more focused in endgame pvp but we all enjoy the thrill of a nice pve. We do have a competitive streak as well as a very strong bond between members. We are due to join the Open world pvp server.
we have created a large information wiki in protuguese that can be viewed from our Website
Portuguese
Edit
| | |
| --- | --- |
| Contacts | Lemonaid;Muyakran;Painless;Zoltar; |
| Focus | World PvP, PvP |
| Server | TBD |
| Size | Small /soon to be Medium |
| Region | Brazil |
| Timezone | gmt -3 |
| Language | Portuguese |
| Website | |
| | |
Bem-vindo à Hardcore Tera Legion !
Vindos de diversos outros jogos e depois de passar dois anos em AION, a hardcore Legion chega ao TERAcomo uma guilda brasileira focada na amizade de seus membros e no hobby em comum de se divertir em MMORPGs.
Com players experientes e novatos, a Hardcore está sempre de portas abertas para receber novos player e principalmente novos amigos. Se você ficou interessado em TERA mas não sabe por onde começar, pode começar se alistando na Hardcore. Estamos sempre disponíveis no TeamSpeak e temos um espírito de competitividade sempre acirrado. Permeando tanto o pve quanto ao pvp, todo o tipo de jogador tem seu espaço. Jogaremos em servidores de Open World PVP pois acreditamos que são servidores que têm mais a oferecer ao nosso perfil.
Alguns de nossos jogadores vêm de uma experiencia anterior no TERA koreano, dando à guilda uma vantagem considerável em questão de conhecimento das mecanicas do jogo, dicas e locais de leveling.
Junte-se à nós nesse super universo de TERA.